Mittwoch
12-13h arriving, (silent) preperation
13-15h lesung 1-10 und blurbing
15-16h recap und pause
16-18h lesung 11-20 und blurbing
18-19h recap und pause
19-21h lesung 21-30 und blurbing
21-22h recap und pause
22-24h lesung 31-40 und blurbing

Donnerstag
12-14h lesung 41-50 und blurbing
14-15h recap und pause
15-17h lesung 51-60 und blurbing
17-18h recap und pause
18-20h lesung 61-70 und blurbing
20-21h recap und pause
21-23h lesung 71-80 und blurbing
23-24h silent cleaning, leaving

Vorstellung / Erlebnis

auseinandersetzung/verarbeitung/verkörperung/erinnerung der gesehenen und erlebten performances in form von reaktionen, antworten, persiflagen, kritik, melancholie, lob, ...

an was erinnern wir uns bei einer performance? das kleid das ich anhatte, das gespräch mit dem brasilianischem tänzer neben mir kurz bevor das stück begonnen hat, die gedanken die ich in der mitte des stückes hatte, ein detail der kostüme, eine emotion, die 10 min nach dem applaus da war, die irritation beim zuhören einer bekannten der das stück missfallen hat, eine persönliche assoziation zu dem monolog einer performerin, das identifizieren mit dem video, .......


Text / Bewegung

"walk and talk" (gehmacher, scaroni) praktiken, simultan/neben- nach- miteinander

assoziation (-sketten) von einem medium ins andere und wieder in ein anderes und wieder ins erste ...

impulshaftes übersetzen? um wieviele ecken übersetzt/abstrahiert? zurück übersetzen?

Sprache / Körper

welche strukturen sind welchen formen inherent? durch das zerstückeln und ("fehlerhafte") übersetzen auf funktionsweisen, bedeutungen oder regeln von (hier deutscher oder englischer) sprache stoßen, bzw neue erfinden. Körper bzw die Lesbarkeit ihrer Bewegungen ähnlich? im Sinne von ("fehlerhaftem") kopieren, wiederholen, interpretieren, nur bestimmte aspekte übersetzen, ... empowerment of the missing and the discrepancy? partial/fractional –––– holistic?


welche inhalte werden in welcher form wie lesbar/ erfahrbar? readabiliy of movements, of words, of sounds from a spectators perspective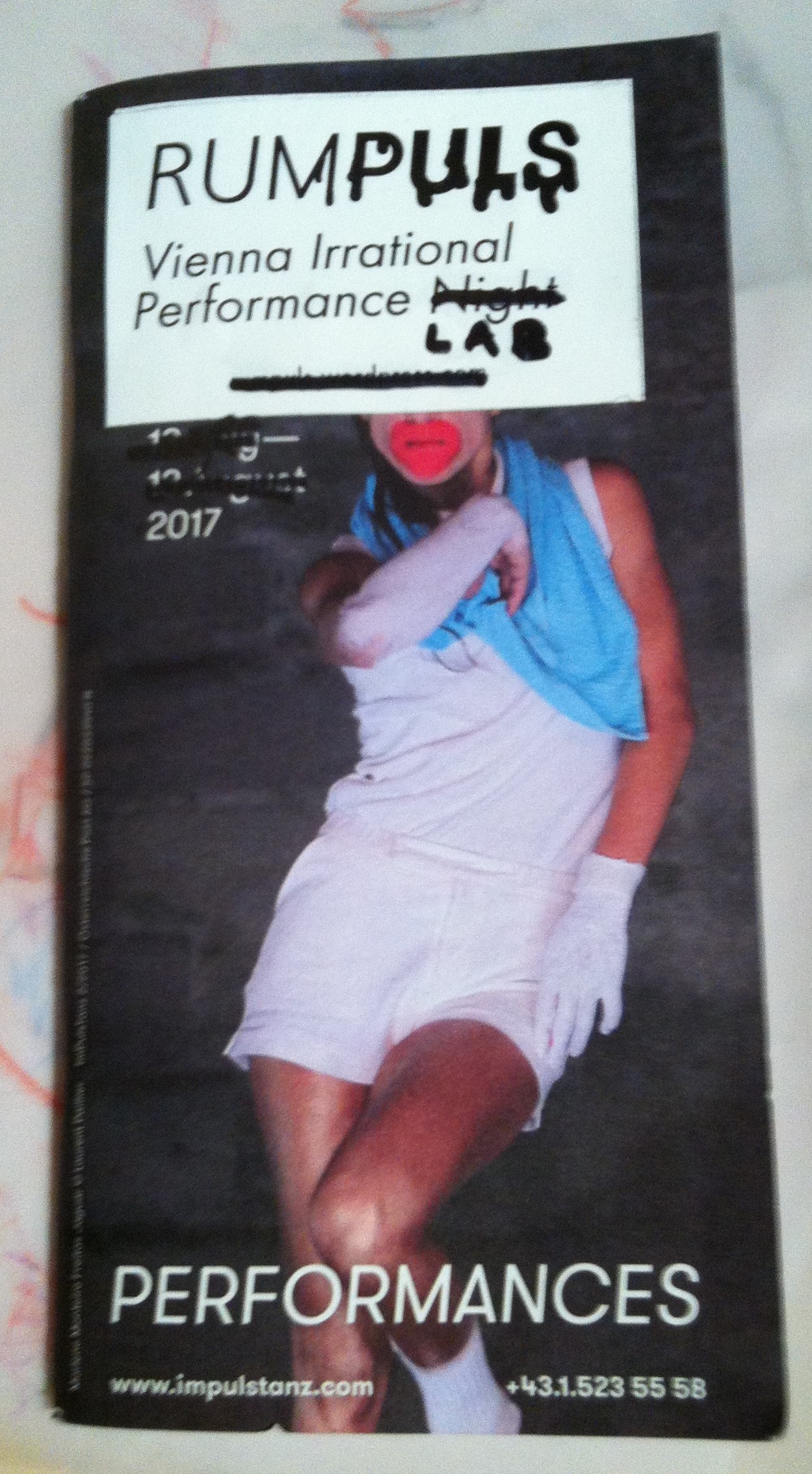 scores


quickies (5 oder 10 min scores)

non verbale scores, eg. zeichnen, tanzen, singen/summen, malen, basteln ...

scores für 2 personen, scores für alleine, scores für eine gruppe ...

- in a couple: choose one text of the booklet, read it together and talk about it freely in a dialouge, 5 min or 10 min (5 min each - one listening one talking)

- in a couple: choose a few words from a text and make an associationchain with each word

- make a blurb out of a text

- literally dance the text

- choose a text or a part of the text that gets your attention, find your imagination creating a scene, make a 3-5min performance

- find a text of a performance you have actually seen, memorise your experience while watching (a state, an emotion, a thought you had) and make a 3-5 min performance based on your experience-memory

- see above, but make a performative summery/blurb of the actual performance you have seen

! - see above, but write your own programm description to the show you saw

- take two different texts, find similarities or differences, come up with a third text or performance that includes parts of the original two

- choose a choreographer and take his or her role (your imagination of the person or based on your knowledge about him/her), act (talk, dance, chroreograph, ...) as if you were this choreographer for 5 min

- choose a title of a performance and create your own 5 min performance based on the title (associative, literally, oppositions, ...)

- in a group, like stille post. one person reads the programm to his/her neighbour, he/she tells his/her neighbour what he/she remeberes, and so on .... the last person says is out loud.

- become a character described in a text

! - learn a part of he text by heart and move/dance freely, saying the words, singing them, mixing them... play with tempo, rhythm, stops, different qualities of moving and speaking ...

- read a text out loud (neutral and clear, or liek an advertisement, like a critique, like a manifesto, like a question, ...)

! - word word word comma word questionmark ... score

- choose a beat and a text, rap the text

- Numerologoe ... (choose a niumber between 1 and 60something ...)

! - text zensieren/ schwärzen






texte vom workshop mit jenny und alice, passend zum thema übersetzung, reenacting, generating, original, ... :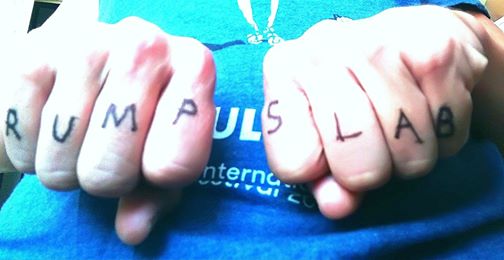 Liste Lesung: (84, davon 4 in brackets, also 80! weil schöne zahl hehe)

1. Jan Fabre
STIGMATA – ACTIONS & PERFORMANCES 1976–2016

2. Pierre Coulibeuf
DOCTOR FABRE WILL CURE YOU (2013)

3. Jan Fabre
I AM A MISTAKE

4. Michael Laub / Remote Control Productions
FASSBINDER, FAUST AND THE ANIMISTS

5. Liz King
OUT OF LIFE

6. Takao Kawaguchi & Dance Archive Network
HOMAGE TO KAZUO OHNO

7. Compagnie Catherine Diverrès
O SENSEÏ & STANCE II

8. Rainer Werner Fassbinder
BEWARE OF A HOLY WHORE

9. Elina Maligina
THE DEVELOPMENT OF INTERDEPENDENCE

(10. ImPulsTanz Workshops
IMPRESSIONS'17)

11. Mary Overlie
STANDING IN SPACE: THE SIX VIEWPOINTS THEORY & PRACTICE

12. Costas Kekis, Anna Prokopová & Petr Ochvat
IT BEATS SOFT IN THE VEINS

13. Lisa Hinterreithner mit Rotraud Kern
DO-UNDO

14. Jan Fabre / Troubleyn
BELGIAN RULES / BELGIUM RULES

15. Anne Teresa De Keersmaeker/Rosas
RE:ROSAS!

16. Doris Uhlich
SEISMIC NIGHT

17. Salva Sanchis
RADICAL LIGHT

18. Roland Rauschmeier with Alex Bailey
CONSUMPTION AS A CAUSE OF COMING INTO BEING

19. Claire Vivianne Sobottke
STRANGE SONGS

20. Akemi Takeya
LEMONISM VOL. 2 LEMONISM X MINIMALISM / SYMBOLISM / CUBISM / DADAISM & LEMONISM X ACTIONISM / JAPONISM

21. Matthew Barney, Erna Ómarsdóttir & Valdimar Jóhannsson
UNION OF THE NORTH

(22. ImPulsTanz soçial
IMPULSTANZ PARTY)

23. Mathilde Monnier & La Ribot
GUSTAVIA

24. Marlene Monteiro Freitas with Andreas Merk
JAGUAR

25. Amanda Piña & Daniel Zimmermann / nadaproductions
WAR (EIN KRIEGSTANZ)

26. Gaëtan Rusquet
AS WE WERE MOVING AHEAD OCCASIONALLY WE SAW BRIEF GLIMPSES OF BEAUTY (IN PROCESS)

27. Simon Mayer
SONS OF SISSY

28. Ivo Dimchev & guests
AVOIDING DELIFEATH

29. Sarah Binder, Sarah Kanawin, Simon Sailer & Florian Wagner
TANZ IM FILM. DAS POLITISCHE IN DER BEWEGUNG

30. Samira Elagoz
CRAIGSLIST ALLSTARS

31. Raimund Hoghe
LA VALSE

32. Samira Elagoz
COCK, COCK.. WHO'S THERE?



33. Cecilia Bengolea & François Chaignaud
DFS

34. Ich bin O.K. Dance Company
GETRENNT-VEREINT

35. João dos Santos Martins & Cyriaque Villemaux
AUTOINTITULADO

36. Mark Tompkins / La Cie. I.D.A.
LE PRINTEMPS

37. François Chaignaud
ДуМИ Мої / DUMY MOYI

38. Anne Juren
ANATOMIE

39. Philipp Gehmacher
DIE DINGE DER WELT

40. Salva Sanchis & Anne Teresa De Keersmaeker / Rosas
A LOVE SUPREME

41. SUPERAMAS
VIVE L'ARMÉE!

42. The Humane Body
INNER VISIONS – WAYS OF SEEING DANCE

43. Vera Tussing
THE PALM OF YOUR HAND #2

44. Simon Mayer
SUNBENGSITTING

45. Volmir Cordeiro
THE EYE THE MOUTH AND THE REST

46. Koffi Kôkô & Floros Floridis
THINK ABOUT ...

47. Christian Rizzo / ICI-CCN Montpellier
AD NOCTUM

48. Mårten Spångberg
DIGITAL TECHNOLOGY

49. Akemi Takeya
LEMONISM VOL. 2 LEMONISM X DADAISM

50. Wim Vandekeybus / Ultima Vez
MOCKUMENTARY OF A CONTEMPORARY SAVIOUR

51. Peter Pleyer
THE PONDEROSA TRILOGY

52. Germaine Acogny / Mikaël Serre
SOMEWHERE AT THE BEGINNING

53. Rachael Young created and performed with Dwayne Antony
OUT

54. Jan Fabre Teaching Group
I AM BLOOD – A MEDIEVAL FAIRYTALE

55. Christine Gaigg / 2nd nature
CLASH

56. Simone Aughterlony & Jen Rosenblit
EVERYTHING FITS IN THE ROOM

57. Raimund Hoghe
LETTERE AMOROSE, 1999 – 2017

58. Marie-Caroline Hominal
THE TRIUMPH OF FAME

59. Oneka von Schrader
PANDA EXPRESS

60. Ola Maciejewska
BOMBYX MORI

61. Christine Gaigg / 2nd nature
FICKT EUCH DOCH INS KNIE

62. Dada Masilo / The Dance Factory
SWAN LAKE

63. Ian Kaler
LIVFE

64. Navaridas & Deutinger
PONTIFEX

65. Peter Stamer
IMAGINARY PERFORMANCE HOUSE

66. Daniel Aschwanden
GOLDBERG 365

67. Thierry De Mey & Anne Teresa De Keersmaeker
ROSAS DANST ROSAS

68. Peter Stamer, Silke Bake & Christel Weiler
HOW TO COLLABORATE? QUESTIONING TOGETHERNESS IN THE PERFORMING ARTS

69. Maria F. Scaroni
WALK+TALK

70. Dada Masilo / The Dance Factory
GISELLE

71. LizArt Productions & toxic dreams
THE AUDITION FOR THE ROLE OF STEPHEN HAWKING IN THE THEORY OF EVERYTHING

72. Doris Uhlich
SEISMIC SESSION

73. Oleg Soulimenko with Alfredo Barsuglia & Jasmin Hoffer
LOSS

74. Takao Kawaguchi
ABOUT KAZUO OHNO

75. Angela Schubot & guests
THE INSIDE IS THE OUTSIDE IS THE INSIDE : ABOUT NOTHING [CANCELLED!]

76. Life Long Burning
CRISIS? WHAT CRISIS?!

(77. ImPulsTanz soçial
DANCEWEB PARTY)

78. Paara / Terence Lewis Contemporary Dance Company
THE KAMSHET PROJECT

79. Nikolaus Gansterer & Mariella Greil & Emma Cocker
CHOREO-GRAPHIC FIGURES. DEVIATIONS FROM THE LINE

(80. ImPulsTanz Workshops
EXPRESSIONS '17)

81. Hungry Sharks
HIDDEN IN PLAIN SIGHT

82. Ismael Ivo / Biblioteca do Corpo®
OXYGEN

83. Award Ceremony
CASINOS AUSTRIA PRIX JARDIN D'EUROPE & FM4 FAN AWARD

84. Ivo Dimchev
SCULPTURES





- PRODUCTIVE MISTRANSLATION

"To respond to a crisis with an imaginative transformation" ("the crisis of not understanding a word", William Kendridge, Six Drawing Lessons)

"... a piece of text missing, and the escape. And a pressure not to accept the broken bridge, the word not understood; a narrative need - more than a narrative, a demand for comprehension, a demand to put the fragments together into a whole, ..."

"...to complete the sense of the world"

Editing / Censoring / Erasing / Adding

Hito Steyerl

".. Recompose a new body with these cut out pieces ..."

"We can reedit the parts that were cut - whole countries, populations, even whole parts of the world, of films and videos that have been cut and censored because they do not conform to ideas of economic viability end efficiency, wecan edit them into incoherent, artificial and alternative political bodies"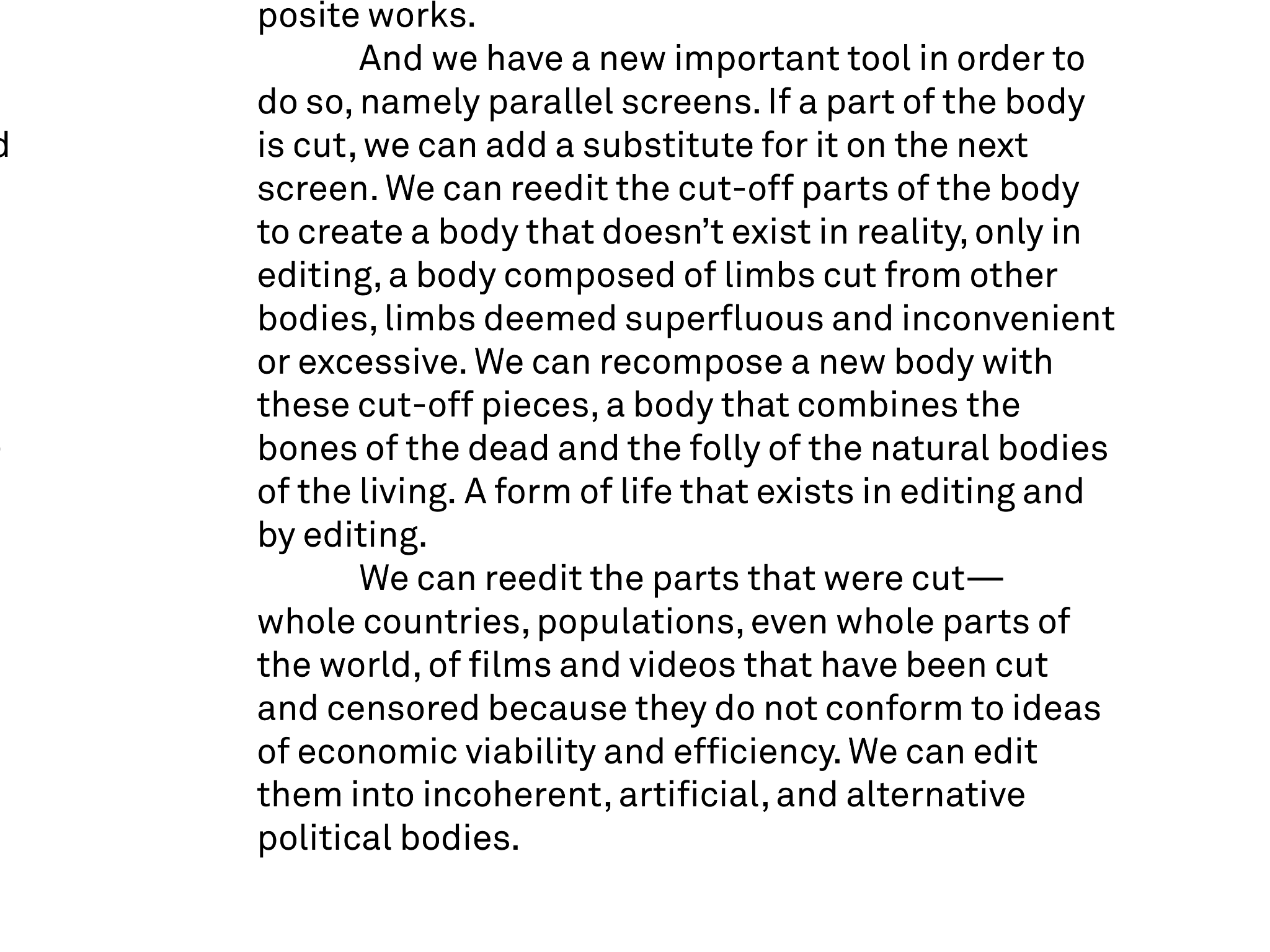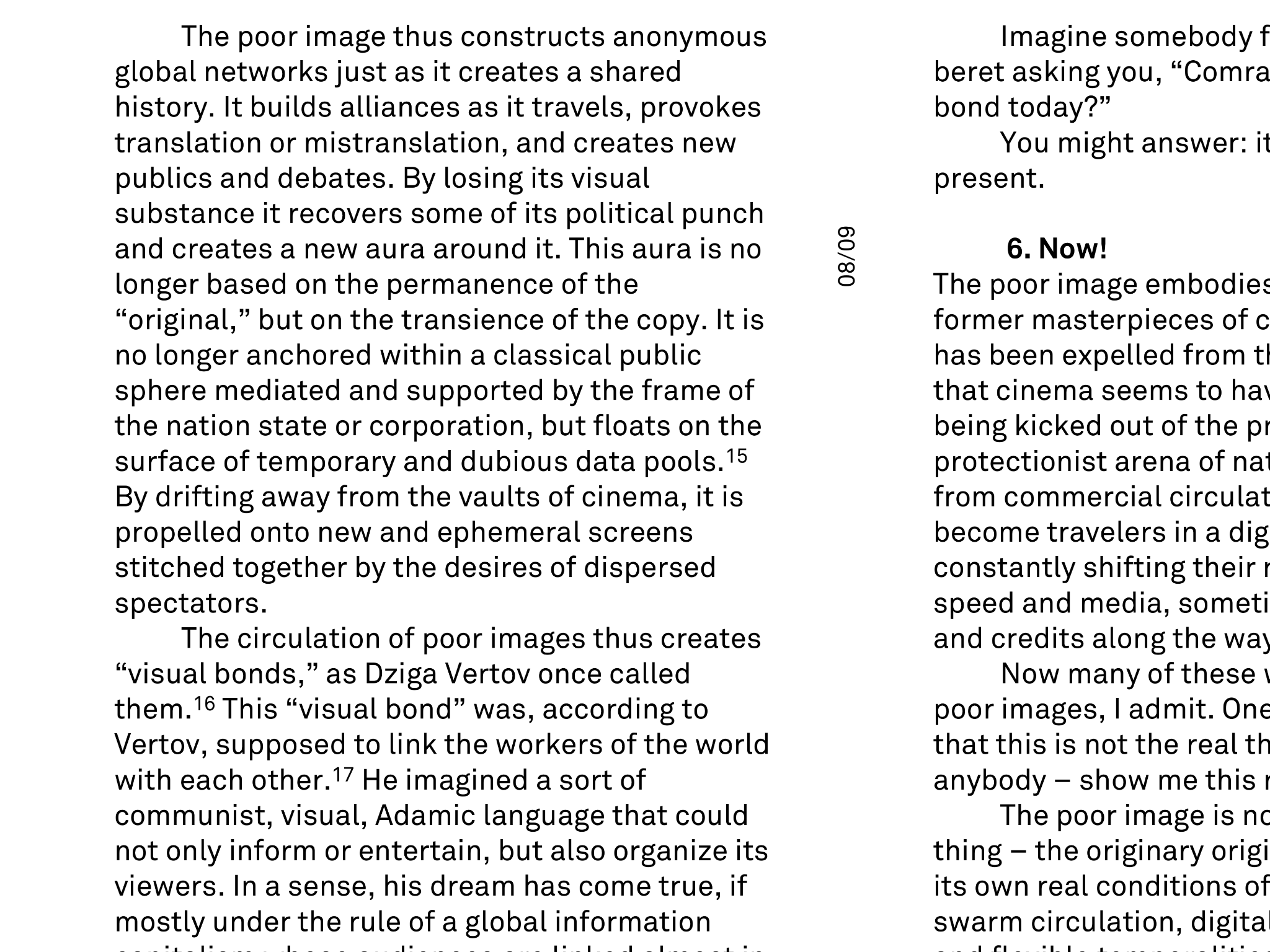 RUMPULS
… an event that takes place over one or more days (almost) every summer since 2013, score, based on the program booklet and the performance descriptions (blurbs) of the eponymous Viennese dance festival of that summer, as open as possible, blurbing: the (re- and mis-) translation of the approximately 80 performance descriptions using different media, looking for help, a marathon, performance karaoke, last minute show, improvisation (yes and now and (all) together), fascinated by the gap between language and realities, imagination and experience, low-threshold, always different, always somewhere else, this time two days, from 12 am to 12 pm, at Flieger / WUK, with a very strict structure of eight two hour blurbing practices, each one starting with the lecture of ten performance descriptions, and followed by a recap and a break of a little hour, until we have performed the entire program booklet, and it would be nice if you come and join, within this structure, we are happy for any input you are willing to bring in or smell out.

...We provide a space, the programmbooklets, paper and pens, music to choose, a non-hierarchic relationship, in which we practice and generate our interpreting-methods. Visitors are welcome to observe as well as involve themselves in their ways, with their ideas of creating short pieces. Sound, Pictures, Videos, Drawings, Texts, Movements. A kind of left over/proof that a piece has happened should remain ...